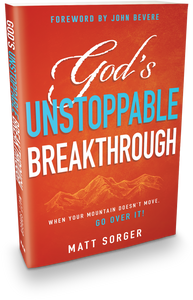 Matt Sorger Ministries
Book - God's UNSTOPPABLE Breakthrough
Regular price
$20.00
$0.00
Unit price
per
$20 DONATION
LIMITED EDITION SIGNED VERSION BY MATT SORGER - ONLY 500 IN STOCK
God's Unstoppable Breakthrough by Matt Sorger
My desire to help believers understand both the process and the power of supernatural breakthrough was the inspiration for my upcoming release God's Unstoppable Breakthrough: When Your Mountain Doesn't Move, Go Over It! (March 23, 2021, Whitaker House). Too many people are giving up before seeing the manifestation of God's promises. Some may have been right on the edge of their breakthrough when they stopped believing and looking for their deliverance. I have designed this book to give such believers hope, relevant teaching from the Word, real-life testimonies of God's breakthrough power—and the encouragement that God wants to use them, too, to bring breakthroughs to others. As I write in the book…
God will turn every place that has been a threshing floor in your life into a place of abundant harvest!


Experience God's Unstoppable Breakthrough and Blessings!
You may be facing an issue that seems like an insurmountable mountain in your life. Or, your circumstances may be so difficult you feel surrounded by walls with no way out. You ask God to knock down those walls, just as He did for Joshua at Jericho. But they're still standing. Sometimes, God removes the obstacles from our lives immediately and dramatically. But what can we do when the mountain doesn't move, when the breakthrough doesn't come, when God's promises aren't fulfilled, even when we pray? 
You can rise up over your own mountain of difficulty, opposition, or hindrance. As you do, that mountain won't look as high as it used to. Every negative situation will divinely position you to be where you need to be in life. You will rise over circumstances you thought were too powerful for you. You will rise over the wall of limitation that once surrounded you. You will rise over the dead end or impossibility that threatened to defeat you. The trials of life have no power to stop you from being abundant and fruitful in God, receiving His blessings, and fulfilling the plans He has for you. Then, your breakthrough will become a breakthrough and blessing for others, too, enabling them to rise over their own mountains of difficulty.
---