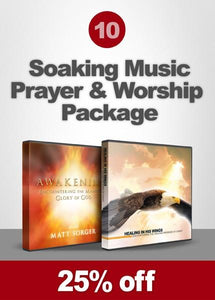 Matt Sorger Ministries
Package 10 - Soaking Music: Prayer & Worship (MP3)
Regular price
$30.00
Sale price
$40.00
Unit price
per
Soaking Music: Prayer and Worship Package (CD)

Healing in His Wings (Normally $20) is a prophetic healing soaking CD that ushers you into a living encounter with the healing presence of Jesus Christ. On this CD Matt combines worship, beautiful instrumental music including the guitar and mandolin along with many other heavenly sounds, healing scriptures, spontaneous healing prayers and prophetic song to bring you on a journey of healing for the spirit, soul, body and mind. This CD is a powerful combination of both the biblical healing word and the manifest healing presence of Christ.

Awakening (Normally $20) is an instrumental scripture and prayer CD on which Matt captures the heart of the Spirit of Awakening with a holy cry for more of God's glory. You will be soaked with the tangible, manifest Glory of God, releasing His fire and power in your life. This CD will usher you into God's glorious presence as you are anointed to become a spark for awakening and revival in the earth!
Suggested Donation: Normally $40
NOW Only $30
---